Interview by Council of Estate Agencies
This article is extracted from Council of Estate Agencies blog – https://www.cea.gov.sg/news-publications/ceanergy-blog/industry-spotlight/a-boost-to-upskilling-with-the-skillsfuture-study-award
——————————————————
Being in the real estate agency industry for close to five years, Derek reflected that it was the experience of purchasing his matrimonial home which led to his interest and eventual pursuit of a career in the industry. He shared, "I realised that there were so many elements in the planning and execution that were not well-covered. I felt that I could fill these gaps and, after a long discussion with various people, I decided to pursue this work."
He also shared that having made the switch after eight years in the corporate world, there was "an absolute need for discipline". "There are no regular hours, standard work protocols, sales targets, or even fixed training plans. But of course, it can be a blank canvas for you. You can tailor your working style to fit your lifestyle and life stage, and also seek out the right training for yourself to improve and grow," he said.
Derek is especially thankful for his peers and managers who mentored him at the start of his career in the real estate agency industry and are still doing so today. "This is something that I hope I can pass on too," he enthused.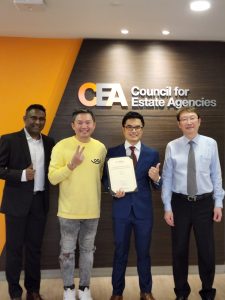 When asked about key skillsets that RESs should possess to add value to their clients' property transactions in the face of digitalisation and changing consumer expectations, Derek said, "Digitalisation would help to improve transparency and efficiency in property transactions and administrative procedures. I foresee the creation of new jobs and alternative investment opportunities such as tokenisation, which is a buzzword in the industry. Tokenisation platforms use blockchain technology to generate "smart contracts" between buyers and sellers. Therefore, what is crucial is how we make sense of information, turn it into actionable insights, map a workable plan, and execute it as seamlessly as possible."
Acknowledging the demands placed by increasingly IT savvy consumers, he sees the role of the RES as "a consultant to help clients navigate and map out options that are tailored for them and their families. Most importantly, serve your clients with professional ethics and due care."
Despite his busy schedule, Derek holds fast to his conviction that knowledge and experience are meant to be shared. Similar to how furthering his studies would hold him in good stead, he sees the value of continuing his passion as a Ministry of Education (MOE) trainer at secondary schools, junior colleges, polytechnics and the Institute of Technical Education.
He said, "I firmly believe in a quote by Benjamin Franklin – An investment in knowledge pays the best interest. I find a lot of joy and satisfaction in sharing what I experienced and learnt when I was a student and in my working journey with the students now. Topics like public speaking, presentation and interview skills, as well as the application of multiple intelligence theory in education and career planning are very close to my heart. These are relevant skillsets in the long run."
Derek Ng is currently pursuing a Master of Science in Real Estate at the National University of Singapore. Upon graduation, he looks forward to applying what he has learnt across various levels – industry-wide, company, division/group – and most importantly, to his clients. He also hopes to nurture a group of like-minded individuals who are passionate to grow the industry and build it on a foundation of good values and professional ethics. Lastly, Derek aims to provide a holistic, objective, and clear analysis of the property market to his clients.
Seller's home is in good conditions. Some items were kept in storeroom and kept neat during viewing.