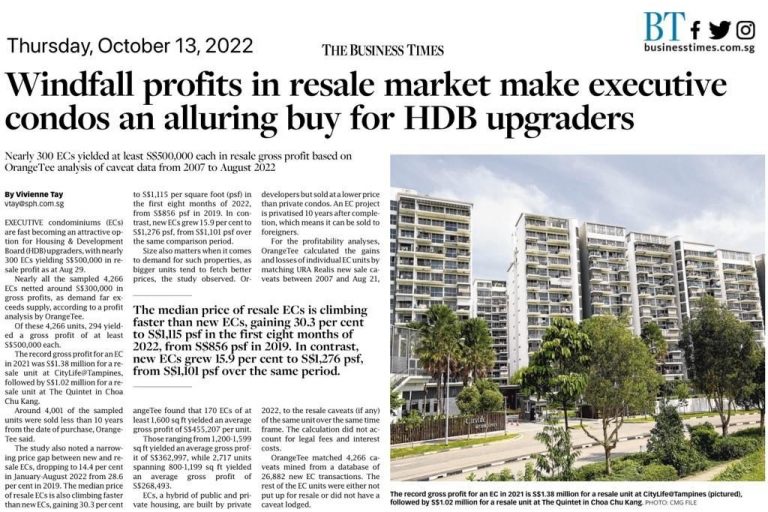 So there are friends/clients who forwarded this article to me. While the gain looks appealing, I would like to share some other less-shared stories of EC owners.
I also know of some fellow EC owners who have to stick to their jobs which they did not like because of this commitment (a 5-years MOP is needed before they can sell);
Another having to result in both parents having to continue to work to finance their EC while stretching their resources (monetarily, mentally, and physically) as they grew their families;
Another decided to stretch and go for a 2-bedder EC but found that space is inadequate as their family grew (bought as a couple then have kids) while due to various reasons, they are also unable to get the permission to sell before the 5-year MOP (also note that the buyers has to fulfill EC eligibility requirement and complete the remaining MOP period).
The 15-month wait-off period after selling their EC as well as the soaring interest rate added more stress and unhappiness to them and their family.
𝙊𝙣 𝙩𝙝𝙚 𝙤𝙩𝙝𝙚𝙧 𝙚𝙣𝙙 𝙤𝙛 𝙩𝙝𝙚 𝙨𝙥𝙚𝙘𝙩𝙧𝙪𝙢
Bought EC – time commitment 3 years construction + 5 years MOP – both names into the property. both are in careers that enable them to grow their income quickly well they do not want to have kids since they do not really need a lot of space.
For them, they have remorse because they could have potentially bought 2 condos during this period comfortably when they could have sold and recycled their capital after 3 years (Due to the Seller's stamp duty – which starts from the date of purchase). To them, it is a huge opportunity cost.
One other (both came from affluent families) can totally feel the inferior quality of EC as compared to the other condos their families owned. (lets be honest here, at a lower price point, we cannot expect the same quality as other private condos). Now tell me they would have bought a private condo instead for better quality.
In all, every family has different goals, family/career plans, financial situations, and many more. It is important to map them and approach any property decisions holistically.
In some cases after going thru the above, EC is still the choice for them and their family and they bought with their eyes wide open.
Feel free to reach out to me if you would like to chat